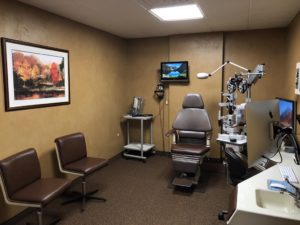 Liva Eye Center is a Comprehensive Eye Care Facility
Liva Eye Center provides comprehensive eye care. We diagnose, treat and perform surgery for a variety of eye conditions and diseases.
Routine and emergency eye exams for all ages. 
Dr. Liva offers intraocular lenses implanted at the time of cataract surgery which can provide correction of distance vision, near vision and astigmatism.
A dedicated excimer laser suite for refractive surgery such as Lasik and PRK.
A yag laser for secondary cataracts.
An SLT laser for glaucoma treatment.
A operating room with a surgical microscope for oculoplastic surgery.  A  radio-frequency device removes eyelid lesions with minimal scarring.
Our optical boutique displays over a thousand quality eyeglass frames and edges lenses in its own lab.
An extensive contact lens inventory.
A revolutionary diagnostic device, the OCT,  images the cornea, retina and optic nerve with a resolution of 5 microns.  These images provide immediate diagnosis and better management of eye diseases such as cataract, glaucoma and macular degeneration.
Electronic medical records not only store patient information but also utilize specialized software that links all the diagnostic instruments into a single database.  Sophisticated analytical tools can compare data and images collected over decades.
A retinal scanner is available to image the retina for patients who want to avoid the inconvenience of a dilated eye exam.